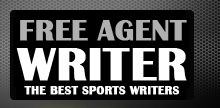 Yankee Addicts
Categories
Featured Sponsors
News published by
December 2, 2010
Every year as the NFL season moves toward Weeks 16 and 17, the media and fans alike bemoan the practice of "good" teams resting starters for the playoffs and not ...
September 11, 2010
Do you remember when there used to be specific gender traits?  Mind you I am not complaining that the gender line has been blurred through the years, but I have ...
September 4, 2010
Today is Cut Down Day in the NFL.  I understand that it is an emotional day where some careers are launched and others are sunk.  I get the whole ...
June 9, 2010
No doubt you have seen what we call the "classic" strength of schedule, which is based on a team's schedule and the records of their opponents in 2009, published in ...
January 6, 2010
(An Open Letter to Giants' Owner John Mara) Earlier this week you expressed your displeasure with the Giants' season performance, and you "vowed to make changes." You are quoted as saying "I ...