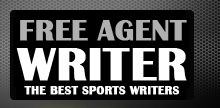 Yankee Addicts
Categories
Featured Sponsors
News published by
December 24, 2010
At 8-6, the Green Bay Packers have truly taken hits everywhere. The roster has been injury plagued all season, they have never been fully healthy all season. Clock ...
October 31, 2010
Injuries have been the story for the 2010 Green Bay Packers on both sides of the ball.  A number of starters have been lost for the entire 2010 season on ...
August 12, 2010
The Packers have been gaining notice as a real NFC North division winner and a legitimate shot to go deeper into the postseason. The Packers have it all, or at ...
August 9, 2010
Heading into 2010, there are so many factors that have a profound effect on how far a team performs. Whether it be injury, contract holdouts, or what have you, these ...
July 21, 2010
Green Bay fans and NFL fans alike are slowly anticipating the start of training camps near the end of July. It is during this period the draft players are signed, ...
July 3, 2010
Football fans are now in that four- to five-week lull that lead up to training camps and preseason games. It is in this this period that the lower draft picks ...
May 20, 2010
As OTAs and camp start, the foundation becomes laid for all 32 NFL franchises, and the 80 players all compete for the already limited spots on the 53 man roster. ...
May 19, 2010
The Green Bay Packers are being described by many as a potential top 10 NFL team this season, despite some of their secondary and offensive line holes. The secondary brought in ...
May 10, 2010
The summer is looming. As OTAs commence, and rookies receive their opportunities, however small, to crack the 53 man roster. The Green Bay Packers are one of two top teams ...
May 2, 2010
The NFL Draft ended with Green Bay general manager Ted Thompson making surprising moves. One surprising move Thompson made was by not making a move at all in ...