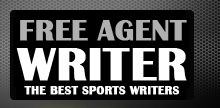 Yankee Addicts
Categories
Featured Sponsors
News published by
September 22, 2010
This past Tuesday, just after Andy Reid told the media that Kevin Kolb was Philadelphia Eagles starting quarterback, he changed his mind and handed the reigns over to Michael Vick. At the end ...
September 9, 2010
"We're a bunch of no-name guys trying to make a name for the defense as a whole, guys working together and trying to get better as a unit," said Titans ...
September 4, 2010
After one of the most boring offseason in years, it's finally just a few days till the season opener.  Donovan McNabb being traded to the Redskins, Terrell Owens signing with the Bengals, ...
August 12, 2010
"It's like Obama.  Obama was the first black president.  I could be the first black face of the NFL," declared Chris Johnson in an interview with Sporting News. This offseason, there ...
August 3, 2010
Two years. That is how much experience all three of the Tennessee Titans cornerbacks fighting for a starting job have combined. Second-year corners Jason McCourty and Ryan Mouton along with rookie Alterraun Verner ...
June 21, 2010
Vince Young sure doesn't need to redeem himself from troubles on the field. He took care of that last season. After an unpredictable 0-6 start, Young took over under center and ...
June 14, 2010
Second-year Tennessee Titans outside linebacker Gerald McRath was suspended this past weekend for violating the league's performance-enhancing drug policy. McRath is probably the Titans linebacker was a seemingly unlikely suspect for taking ...
June 3, 2010
Albert Haynesworth. Kyle Vanden Bosch. Jevon Kearse. Tony Brown. Those four defensive linemen made up the Tennessee Titans "Chain Gang" in 2008.  As the heart and soul of that 13-3 squad, there was truly ...
April 30, 2010
Intensity 1: The quality or state of being intense; especially : extreme degree of strength, force, energy, or feeling 2: The magnitude of a quantity (as force or energy) per unit (as ...
April 28, 2010
Batman and Robin.  Sherlock Holmes and Doctor Watson.  Chris Johnson and... It used to be Lendale White, but after whining to the media that he either wanted to start or be ...