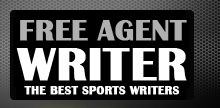 Yankee Addicts
Categories
Featured Sponsors
News published by
December 11, 2015
Ravens kicker Justin Tucker is quite the man. Besides being a top-notch kicker in the NFL, he can dance, and now we've found out he can sing too.During a charity ...
December 5, 2015
Barack Obama and Green Bay Packers quarterback Aaron Rodgers have a profound respect for each other.It was as recently as November when Obama compared himself to Rodgers in the pocket. That's about ...
September 25, 2015
NFL players and fantasy football usually don't mix. The players hate hearing about how they affected someone's fantasy team—good or bad. Plus, one can only imagine how many mentions they ...
August 22, 2015
Aaron Rodgers is a normal human being like the rest of us. How so? Well, sometimes, he likes to waste time making nonsense videos on the Dubsmash app. We've all been there.Rodgers ...
August 8, 2015
The Houston Texans have been in Richmond, Virginia, all week to have joint practices with the Washington Redskins. Two opposing teams spending that much time together is unusual, and as ...