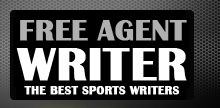 Yankee Addicts
Categories
Featured Sponsors
News published by
August 20, 2011
Rex Grossman.Ever heard of this name, Chicago or Washington natives? Sexy Rexy, the Rex Cannon. All the above labels are all too familiar.The story of Grossman begins in Chicago, in 2003. ...
October 2, 2010
With the 2010 season of professional football underway, the saying "expect the unexpected" has been in full effect thus far.Looking past the Brett Favre drama, off-season of holdouts, and typical ...
July 24, 2010
In today's annual gridiron meets, passing is the most important aspect when it comes to victory. Evolution is taking place quickly, as the hard-nosed approach of smashmouth football has vanished. ...
July 18, 2010
In 2000, the NFL fanatics across the world witnessed a new rookie linebacker who claimed the Defensive Rookie of the Year and took over the league for several more years. Brian ...
July 4, 2010
According to HalasObserver, an inside source within Chicago's organization via Twitter (http://twitter.com/HalasObserver), Jerry Angelo is seriously considering trading Bears' newfound receiver Devin Aromashodu and a 2nd round pick for Vincent Jackson, who is ...
June 29, 2010
In 2008, nobody knew a single detail about this workhorse out of Tulane University that was tearing up the running back and receiver rankings, but they knew one thing—they wanted to find ...
June 27, 2010
"There's always next year." A phrase Chicago Bears' fans have come accustomed to for the past three years. A phrase, the Chicago Bears fans don't want to hear next year. It's make ...
June 21, 2010
This is Dustin Brown bringing you my new series of articles entitled "Building the Perfect." To get things started, I will first discuss the quarterback position. First off, I will ...
June 16, 2010
In all the rumors and the talk of how good or bad the Chicago Bears will be next season, who will start where, and even who will be here in Week One ...
June 9, 2010
Heading into the NFL 2009-2010 offseason, the Chicago Bears looked lost and hopeless in what seemed destined to become a long, saddened few months. Despite the 2009 downfall, Chicago looks to ...