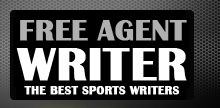 Yankee Addicts
Categories
Featured Sponsors
News published by
May 11, 2013
Tom Brady, Peyton Manning, Aaron Rodgers. These are some of the most notable quarterbacks in the National Football League. They represent the most premier players at the NFL's most popular ...
December 23, 2012
Read more NFL news on BleacherReport.com
April 21, 2011
A lot has happened with Aqib Talib ever since he entered the NFL in 2008, more of it bad than good. He failed three drug tests before he was even drafted, ...
April 16, 2011
It's that time of year again, one where NFL scouts go back and forth on anything from the quickness of some one's feet, to the quickness of their thinking. Down ...
January 19, 2011
The Tampa Bay Buccaneers entered this season with plenty of questions and plenty of critics. Most were saying Tampa wouldn't come close to sniffing .500, much less win 10 games ...