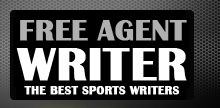 Yankee Addicts
Categories
Featured Sponsors
News published by
November 6, 2010
Michael Vick took the field for the Eagles in their second game of the season as their starting quarterback. He hasn't done that for any team in over two years. However, ...
October 29, 2010
Imagine that you're a professional football player in the NFL.Take into account all the pros and cons of such a situation. You get the fame, the glory and the money, ...
October 21, 2010
There have been plenty of publicized responses to the NFL's new suspension policy on what they call "devastating hits and head shots". However, one in particular caught my attention. It ...
October 20, 2010
Punter Pat McAfee followed along the great lineage of Colts' kickers after being picked up for a public drunkenness early Wednesday morning. Doesn't it seem like just yesterday when we ...
October 15, 2010
Colt McCoy was the most accurate passer in the NCAA. He was a Heisman finalist. He was a star at Austin. He was beloved by almost everyone at UT. And, ...