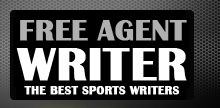 Yankee Addicts
Categories
Featured Sponsors
News published by
July 30, 2010
Finding a ranking system that suits their franchise's current position as either a contender or a builder is one of the challenges any owner in a dynasty league has. Fantasy football ...
July 29, 2010
The following diary entry will be written in February of 2014. Through the magic of technology (and possibly a hot tub time machine), we take a futuristic (and somewhat ridiculous) ...
July 27, 2010
The inevitable has happened. Terrell Owens has joined the Bengals on a one-year deal with some major incentives. It's truly mind boggling how Marvin Lewis is continuously asked to take on the most ...
July 27, 2010
In part two of our Waiting in the Wings series, we move on to the RB position. Just like that of the QBs, we're not talking about high profile rookies, high ...
July 26, 2010
With the fantasy season right around the corner, it's time to throw out some bold predictions on what we'll see in 2010. Every season brings us some surprises, and this next ...
July 25, 2010
It seems Terrell Owens may just find a home after all. Word has come that the enigmatic wide receiver has been playing catch with Bengals quarterback Carson Palmer recently. Those workouts ...
July 24, 2010
The Giants surprised some people today and signed free agent LB Keith Bulluck to a one-year contract worth up to $2.5 million. Bulluck is 33 years old and coming off a ...
July 23, 2010
The Sports Hub's Gresh and Zolak Show on 98.5 in Boston is reporting that Wes Welker will participate in the upcoming Patriots camp starting on July 29th. Participating in practice assures ...
July 23, 2010
Here at DLF, we do our best to provide the best dynasty related fantasy football information offered anywhere. We also try to have some fun now and then with a ...
July 22, 2010
What do such names as Tom Brady, Tony Romo, and Drew Brees all have in common? If you answered that all of these top-tier QBs were not drafted to be the ...