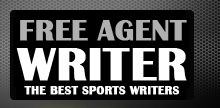 Yankee Addicts
Categories
Featured Sponsors
News published by
October 22, 2010
With all the negativity surrounding the Chicago Bears, you'd never guess they're actually in first place in the NFC North, and tied for best record in the NFC at 4-2. It ...
September 17, 2010
Of the many story lines from the Chicago Bears' week one victory over the Detroit Lions (Jay Cutler's monster passing game, the return of Matt Forte to the fantasy football ...
September 8, 2010
Week One in the NFL is upon us, and it's time for the Chicago Bears to suit 'em up and get after it in 2010. Depending on who you talk to, ...
August 31, 2010
After three forgettable pre-season games, the Bears have shown us nothing that should inspire us for this upcoming season. It's not about the three losses, but rather the manner in which ...
August 20, 2010
The rust now hopefully off of them, the Chicago Bears open their home campaign this Saturday against the Oakland Raiders.It's not the type of preseason action that will be must-see ...
August 12, 2010
There's only a few days left before the NFC North teams begin their thrilling preseason schedules, but I wanted to bring everyone up to speed on the biggest moves that ...
July 18, 2010
Along with the fact that the Los Angeles Clippers will always be terrible and the Northwestern Wildcats will never make a trip to the NCAA tournament, there remains one constant ...
July 6, 2010
Lost in the shuffle of a busy offseason and a disappointing 2009 season is one of the Chicago Bears' primary weapons: The special teams. I know, I know.  Special teams don't sound "sexy" ...
June 17, 2010
With a little less than three months before the Bears' first preseason game, I wanted to break down the Bears' 2010 offseason so far, from an A-to-Z perspective. There is anticipation ...
June 8, 2010
Too many times in the NFL and sports in general, we hear about players fussing and feuding with their general managers, coaches, teammates, etc. about being appreciated or, "feeling the ...