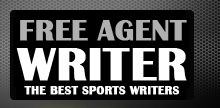 Yankee Addicts
Categories
Featured Sponsors
News published by
October 4, 2010
This was an important week for Seattle if they had any visions of taking the NFC West, yet the road woes continue. Coming into this season, the Rams were the "easy" ...
August 10, 2010
As the 2010 season creeps towards us, training camps have begun and all eyes are focused on the forthcoming preseason. It occurred to me that many coaches approach a rebuilding season ...
July 14, 2010
Perhaps an interesting distinction I hold as a die-hard Seahawks fan is that I've never lived in Seattle. In fact, I've only seen them play one home game...a preseason game ...