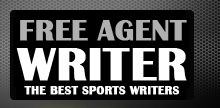 Yankee Addicts
Categories
Featured Sponsors
News published by
December 4, 2010
The NFL's players' union has issued a letter to all NFL teams and players advising them to save their money and prepare for an impending lockout that could occur in March ...
August 19, 2010
Lights were flashing and people were gathered around today at the Minnesota Vikings practice facility but for a change it was not because of Brett Favre returning to the team. No, ...
August 19, 2010
Mardy Gilyard, the rookie wide receiver from the University of Cincinnati, is ready to make his NFL debut this Saturday against the Cleveland Browns in the state where he played ...
March 4, 2010
At 12:01 a.m., Indianapolis Colts starting middle linebacker and defensive captain Gary Brackett will become an unrestricted free agent. That is, unless he and the Indianapolis Colts can come to terms on ...
March 3, 2010
The Indianapolis Colts helped solidify their defense today by placing a first-round tender on safety Antoine Bethea. If another team would want to try and sign Bethea away from the Colts, ...
March 3, 2010
In a turn that most Redskins fans probably did not see coming (or maybe wished wouldn't come), Washington placed a first-round tender on quarterback Jason Campbell today. Campbell's whole career with ...
March 2, 2010
Well the NFL has gone and once again done something that I feel is completely and utterly wrong for the game itself—they are planning on playing the Pro Bowl the ...
March 1, 2010
One of the biggest stories of the 2010 offseason, the NFL combine, and NFL draft is what will Tim Tebow show in his pro day that he missed out on ...
March 1, 2010
With the No. 1 overall pick in the 2010 NFL draft, the St. Louis Rams are at a cross roads in what they want to do and what they could do ...
March 1, 2010
Every year as we near late February, all eyes turn towards Indianapolis and the NFL Combine. The combine, a virtual meat market of collegiate players heading to the biggest job interview ...