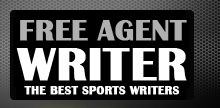 Yankee Addicts
Categories
Featured Sponsors
News published by
March 27, 2011
The Pittsburgh Steelers have been a model franchise for almost a century. They have not drafted based on need, always on the best player available. They have very rarely made ...
March 7, 2011
As a Toronto Maple Leafs fan, it is my duty and pleasure to hate Daniel Alfredsson. However, in this article, I could not help quoting him. He famously said the words: ...
August 25, 2010
Many people point to the New England Patriots as a model franchise. They always have a team filled with players who care about the team and not themselves. They take ...
August 14, 2010
Ben Roethlisberger Will he be booed or will he be cheered? He is a very good quarterback who has already won two Super Bowl titles and is hungry for more. Unfortunately, ...