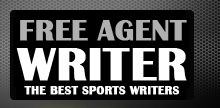 Yankee Addicts
Categories
Featured Sponsors
News published by
March 28, 2011
1. Carolina Panthers—DT Marcell Dareus This team has so many holes that I do not think they can actually make a bad pick. While I think the best way to ...
March 17, 2011
They are still in a work stoppage, but the National Football League apparently is still planning changes for the upcoming (hopefully) 2011 season. They say this year they ...
March 12, 2011
This year, I think it's safe to say we can throw Arian Foster into the running for top fantasy football pick. Back in 2010, most people took Adrian Peterson, Maurice ...