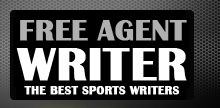 Yankee Addicts
Categories
Featured Sponsors
News published by
May 11, 2014
Jonathan Dowling was the Oakland Raiders' last pick in the 2014 NFL draft. He is the third defensive back chosen by Reggie McKenzie and the Raiders this weekend. He's also ...
May 7, 2014
Raider Nation, the time is almost here for the NFL draft. It's been a long wait, and I'm sure everyone is tired of the rumors and mock drafts by now. ...
April 21, 2011
As the 2011 NFL Draft approaches, it's time to look at some of the areas of need for the Oakland Raiders. When I look at this team and I put ...
April 12, 2011
Jason Campbell is primed for a big year in Oakland. There are many young weapons around him, but there is always room for more. This isn't a mock draft, but it ...
April 7, 2011
The NFL lockout is the talk of the nation and the 2011 season is in question. The Oakland Raiders made big strides in 2010 and are looking to make a ...
April 5, 2011
The Oakland Raiders finished 8-8 in 2010 and everyone in the organization feels that they are ready to make the playoffs in 2011. The Raiders went undefeated in their division ...
March 31, 2011
The Oakland Raiders have a rich history, and many great players have worn the silver and black—past and present. Trying to come up with an all-time defensive line up for ...
March 24, 2011
As the NFL Draft approaches Oakland Raider fans will have to sit and watch many mock drafts without the Raiders included. Normally, the mock drafts focus on the first round ...
February 14, 2011
One of the biggest stories in the short off season for the Oakland Raiders was the already epic news conference with Al Davis and Hue Jackson. Whenever Davis is set to ...
February 10, 2011
The Raiders are facing a lot of big decisions this off season with free agents. Nobody really knows what is going to happen with the new CBA or when a ...