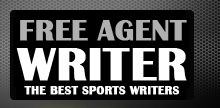 Yankee Addicts
Categories
Featured Sponsors
News published by
August 15, 2012
The Miami Dolphins are going to be a dreadful offensive team in 2012. Well, that's the feeling you get after watching episode two of HBO's hit series Hard Knocks which ...
August 15, 2012
The NFL's preseason is a rather painful experience to watch, but it's a necessary evil for fantasy owners to gauge how rookies and aging veterans are looking early on. In ...
July 25, 2012
People have always believed Tim Tebow was special. The New York Jets think so, which is why they plan on using their special player on special teams. Mark Sanchez enters ...
May 30, 2012
It looks like Donald Driver is staying with the Green Bay Packers. While nothing is official as of late Tuesday night, all signs point to the three-time Pro Bowler re-signing ...
May 1, 2012
The NFL is a weird and wacky place.It's a league where a guy like Matt Forte can lead his team in rushing and receiving yards (prior to season-ending injury) while ...
November 12, 2011
The NFC South race is going to be one of the best in the NFL. Sunday is going to really muddy the picture because the Atlanta Falcons are going to ...
November 12, 2011
Here we go again. Another athlete has married a celebrity, this time it's Atlanta Falcons defensive end Kroy Biermann and The Real Housewives of Atlanta star Kim Zolciak. The coupled ...
March 22, 2011
The 2011 NFL Draft is going to shape the long-term future for multiple franchises. With so much money on the line, drafting a player that later becomes a bust can set ...
March 13, 2011
The 2011 NFL Draft is the only thing football fans can look forward to over the next few months.As endless amounts of footage of Roger Goodell walking out of buildings ...
March 11, 2011
The NFL labor talks have hit another snag. The owners have refused to open up their books and now the NLPA has decertified itself from the NFL. The disgruntled owners are ...