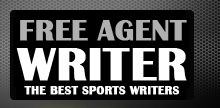 Yankee Addicts
Categories
Featured Sponsors
News published by
April 6, 2011
The biggest question this offseason for the Philadelphia Eagles is whether to re-sign Kevin Kolb to another extension or trade him. In the end, it may not be in Kolb's hands. If ...
March 25, 2011
Even with a lockout looming, teams still have to prepare for the NFL draft. The Philadelphia Eagles have a couple of needs to fill and also some positions where they ...
March 21, 2011
One of the key needs for the Philadelphia Eagles this offseason is to upgrade the backfield. While I agree that the most pressing needs are on the offensive line and ...
March 21, 2011
If there is going to be a 2011 NFL season, the Philadelphia Eagles are going to have to start making roster moves very soon. Their biggest roster moves will likely ...
March 18, 2011
If there is not going to be an NFL season in 2011, why not look ahead toward the future. The one thing that is sure to happen is the NFL ...
March 4, 2011
The NFL is scheduled to meet with mediator George Cohen on Friday to discuss another extension to the current CBA, according to the NFL Network. The players and owners already passed ...
February 18, 2011
The NFL Scouting Combine is less than one week away. This is where NFL Draft prospects show off their intangibles (speed, strength, hands, etc.) Every year players we normally have not heard ...
January 19, 2011
Since 1921, Green Bay and Chicago have been battling each other on the football field for bragging rights. Since 1967, they have fought for the NFC North title, and the ...
January 11, 2011
Now that the Eagles are knocked out of the playoffs, it is time to decide who stays and who goes on the current roster. Andy Reid and company have already ...
January 5, 2011
The NFL Playoffs are soon to be underway and this year may be one of the more exciting playoffs we've seen in awhile. The AFC is stacked with all six ...