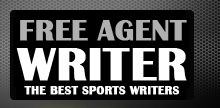 Yankee Addicts
Categories
Featured Sponsors
News published by
January 24, 2015
Fantasy Pro Bowl?! Yes, it is a thing. Thank goodness, for degenerates like us. Draft Kings keeps our money-grab fantasies alive with the Pro Bowl-Super Bowl "Desert Bowl." See, daily fantasy laws ...
December 27, 2014
Your yearly league(s) might have closed up shop for the season, but the wonderment and splendor of daily fantasy football can keep you setting lineups and winning money in Week ...
December 13, 2014
If you have played fantasy football long enough, you know the playoffs don't always go according to plan. Your stars can go in the tank suddenly, like Peyton Manning did ...
December 6, 2014
If not for the updated injury information, you could have mapped out your fantasy starting lineup for the postseason weeks ago. Unfortunately, this is one of the sketchiest weeks for ...
November 29, 2014
Fantasy football and the NFL don't always go according to plan or expectations. For example, you see an aerial assault between future Hall of Fame quarterbacks Tom Brady and Aaron Rodgers. We see ...
November 22, 2014
Jonas Gray was the highest-scoring fantasy player last Sunday and the story coming out of Week 11. He is also the story going into Week 12, but for unfortunate reasons. Gray ...
November 15, 2014
It is now or never for your struggling fantasy football team. The same goes for quarterback Robert Griffin III in Washington with the Redskins and his fantasy owners. If RG3 cannot ...
November 8, 2014
Fantasy points have been gushing of late, even if the temps are dropping around the country. As much as you need the points, you likely can do without them on ...
November 1, 2014
We are into November, so it is fantasy crunch time for owners' playoff pushes. It is also the time to start checking the weather reports. Peyton Manning's struggles in the cold ...
October 18, 2014
We are nearing the second half of fantasy football's regular season, so it is make-or-break time for your postseason hopes. Hopefully you are not one of the teams decimated by ...