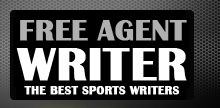 Yankee Addicts
Categories
Featured Sponsors
News published by
September 8, 2010
Every year, all 32 teams look at getting what only one got the previous year—the Lombardi Trophy. The New Orleans Saints are just one among the few teams with a ...
September 4, 2010
Right now the Seattle Seahawks are looking at releasing T.J. Houshmandzadeh if they are unable to find a team to trade with. If a trade cannot be put together, they ...
September 2, 2010
Drew Brees came into this league as the first pick of the second round (32nd overall) of the 2001 NFL Draft. Almost a footnote to LaDainian Tomlinson at the time, Brees ...
August 23, 2010
Tonight, Brett Favre opens his season with a Preseason matchup against the San Francisco 49ers. After all the hoopla that annually surrounds Favre's offseasons, football is here again for Favre. The ...
July 23, 2010
Ray Anthony Lewis, now 35, is slamming into the final years of his professional football playing career. He's won a Super Bowl, been an 11-time Pro Bowl Selection, and a ...
July 17, 2010
Last Thursday, LeBron James decided to leave the Midwest for the sunshine in Miami, and with that, changed the entire landscape of professional sports in Ohio. The Cavaliers, ...
June 16, 2010
Everyone remembers the day (if your old enough) when you first played in the Tecmo or Super Tecmo Bowl. I was introduced to the game by Walter Payton and the Chicago ...
May 31, 2010
The Seahawks are not a franchise that has been known to be deep at the wide receiver position. They do have Steve Largent, who at one point was the NFL's ...
May 28, 2010
The Arizona Cardinals have won the past two NFC West crowns through Kurt Warner. Now, they move into mini-camps without a former NFL and Super Bowl MVP. Can the ...