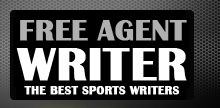 Yankee Addicts
Categories
Featured Sponsors
News published by
January 19, 2011
The Oakland Raiders' wide receiver corps is full of youth and talent andmost of which is untapped. Reality television has a way of making seemingly untalented people into instant celebrities. What correlation ...
January 15, 2011
Let me start by saying that my worst fear of all is that there will be no football in 2011.  With that proclamation out of the way, I would like to ...
May 7, 2010
So in the spirit of over-written topics, I would like to put my spin on the recent release of JaMarcus Russell. It's an unfortunate thing when a talented person fails at ...
May 5, 2010
The Oakland Raiders' roster is comprised of many young, fresh talents that have yet to be completely materialized.  Entering their third year of play, many of these players have the ...
April 29, 2010
The brief rise and sickeningly quick fall of JaMarcus Russell has been documented well enough. I must admit, I was wrong when I wished we had selected Brady Quinn first overall ...