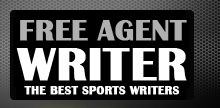 Yankee Addicts
Categories
Featured Sponsors
News published by
April 30, 2010
With the 22nd pick in the NFL Draft, the Cleveland Browns select from the University of Notre Dame, Brady Quinn. That moment was a day of hope for the Browns, Quinn, ...
April 17, 2010
Brandon Marshall was known for a lot of things in Denver. He was known to be a locker room cancer. He was also known to be in trouble with the law. However, ...
April 16, 2010
This article is a response to this article by Jarrod Moore. http://bleacherreport.com/articles/379090-youll-be-sorry-big-names-bound-to-bust-big-time Everything about this article just flat-out bothered me. This is the kind of article that does nothing productive and ...
April 10, 2010
About a year ago, the Denver Broncos' quarterback situation was very clear. Newly acquired Kyle Orton was to be the guy to replace Jay Cutler as the starting quarterback. Although ...
April 4, 2010
I remember watching a game last year in week 2, which was ironically against the Denver Broncos. Being a lifelong fan of Notre Dame, Brady Quinn was the best quarterback ...
April 3, 2010
As we all know by now, both Brady Quinn and Derek Anderson are with different teams. The Cleveland Browns quarterback situation now involves Jake Delhomme as the starter with Seneca ...