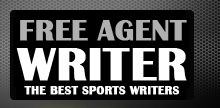 Yankee Addicts
Categories
Featured Sponsors
News published by
May 1, 2016
It's May 1, so naturally we're already picking final rosters for NFL teams. Ridiculous? Maybe a little bit, but it's still fun to speculate as to where some of the Seahawks' ...
April 30, 2016
It's Day 3 of the 2016 NFL draft, and the Seattle Seahawks have four picks in Rounds 5-7 at their disposal.  The team brought in an impressive haul of players in ...
April 29, 2016
The Seattle Seahawks did a fine job of drafting an offensive tackle and gaining an extra third-round pick on Day 1 of the NFL draft. However, there's still plenty of picking ...
April 27, 2016
We're only about a day away from the 2016 NFL draft, if you can believe it.  Thursday will be decision time for Seattle Seahawks brass, and the team has some interesting ...
December 26, 2015
The Seattle Seahawks take on the St. Louis Rams in a NFC West rivalry game at CenturyLink Field for the last time this regular season. The 12th Man is in holiday ...
December 19, 2015
The Seattle Seahawks take on the Cleveland Browns at CenturyLink Field this Sunday, and it's seemingly the first time in weeks that the Seahawks aren't playing a high-stakes game.  Don't tell ...
December 12, 2015
The Seattle Seahawks enter Sunday's contest as heavy favorites despite playing on the road against the Baltimore Ravens. It's a perfect trap-game scenario—the Seahawks are on a high-flying roll right now, ...
December 5, 2015
The Seattle Seahawks play in a statement game for the second straight week against the Minnesota Vikings on Sunday. And although the Seahawks won't have the benefit of playing in front ...
November 28, 2015
The Seattle Seahawks and Pittsburgh Steelers clash on Sunday afternoon in one of Week 12's more intriguing matchups.  The hype for this Super Bowl XL rematch is real. Another real aspect of ...
November 16, 2015
Head coach Pete Carroll's Seattle Seahawks lost their first prime time home game Sunday night to the Arizona Cardinals after another late defensive breakdown. The final score was 39-32. The Cardinals ...