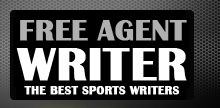 Yankee Addicts
Categories
Featured Sponsors
News published by
August 26, 2010
Year after year in the NFL a team no one expected to make noise at the beginning of the season ends up outperforming media expectations. Whether it was the Saints ...
August 21, 2010
Well, it's official. Brett Favre has returned for his 20th and (supposedly) final season in the NFL, and his second with the Minnesota Vikings. In 2009, The Vikings finished 12-4, and obliterated the ...
August 19, 2010
Quarterback is the most important position in all of sports. No team, no matter how talented, can win consistently for years and years without an elite man at the helm ...
August 17, 2010
Dez Bryant suffered a high ankle sprain July 30th during Cowboys practice, and the original expected recovery time from the injury was four to six weeks. Bryant has been out for ...
August 16, 2010
As the end approaches for week one of the 2010 NFL preseason, it is time to reflect on what we have learned thus far before the first game at the New ...
August 16, 2010
The Lions reached historic levels of futility in 2008, being the first NFL team to finish the season winless. They were a mess on both sides of the ball, finishing ...
August 15, 2010
The consensus "Team of the Decade" in the 2000's was the New England Patriots. They won three Super Bowls and came within about 35 seconds of having the greatest team ...
August 12, 2010
The 1967 NFL Championship between the Dallas Cowboys and Green Bay Packers was to be a christening for what would be, without equivocation, the best team in football. Both had obliterated ...