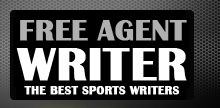 Yankee Addicts
Categories
Featured Sponsors
News published by
July 23, 2011
The 2011 free agency period is going to be fast, fun and rapid; the Carolina Panthers aren't usually busy during the free agency period, but this year could be different.If ...
March 30, 2011
Say goodbye to the old, conservative Carolina Panthers draft strategy, and say hello the new, risky one.Recent drafts for Carolina have consisted of striking gold in the first and late rounds, but ...
March 11, 2011
With the 2011 NFL Draft is less than two months away, prospect stocks are up and down and the combine is over with and we have moved on to the ...
March 3, 2011
1. Carolina Panthers: Da'Quan Bowers, DE, Clemson Ron Rivera and the Carolina Panthers could go a number of ways here, but since they have so many needs along this team, they ...
February 14, 2011
1. Carolina Panthers: Nick Fairley, DT, Auburn. The Carolina Panthers are in the same position they were back in 2002 when they selected All-Pro defensive end Julius Peppers with the ...
January 7, 2011
The Carolina Panthers just can't seem to stop losing this season.Carolina has now lost what could be a complete franchise quarterback in Andrew Luck, who has chosen to stay in ...
October 11, 2010
In another attempt to improve the NFL's worst offense, Carolina has claimed former second-round pick Devin Thomas after he was released by the Redskins before Sunday's overtime win versus Green ...
September 3, 2010
Cowboys wide receiver, Patrick Crayton, got the wish he has been longing for since the team drafted Dez Bryant in the first round of this summer's NFL Draft. The San ...
September 3, 2010
During the offseason, the Carolina Panthers lost their franchise-best defensive player, Julius Peppers, to the Chicago Bears. In a move that wasn't expected to happen for a couple years, Carolina's chances ...
August 28, 2010
Injuries are nothing new for wide receiver Donnie Avery, who tore his ACL in his right knee, and will miss the entire 2010 season. Lucky for the Rams, receiver Laurent Robinson is ...