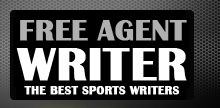 Yankee Addicts
Categories
Featured Sponsors
News published by
May 11, 2010
The newest of the ever-present batch of offseason reports for the Washington Redskins has long time Philadelphia Eagles running back Brian Westbrook slated for a visit this coming Wednesday. Westbrook, who ...
April 29, 2010
The Washington Redskins haven't won a Super Bowl in 18 years. During the subsequent seasons, Washington only made four additional playoff appearances (last time in 2007), and hasn't won the NFC ...
April 15, 2010
The Carolina Panthers have been fairly quiet this off-season, other than the release of long-time starting quarterback Jack Delhomme, and his subsequent signing to a deal in Cleveland. Meanwhile, the ...
April 15, 2010
Shortly after renowned NFL Coach Mike Shanahan inked his deal to coach the Washington Redskins, he began announcing his supporting cast. In a move that many had predicted, the ...
April 14, 2010
Breaking news this morning on ESPN.com states that Brandon Marshall will be traded to the Miami Dolphins. It was reported yesterday that Marshall had signed his tender offer with the Broncos, ...
April 13, 2010
I had just finished writing an article about trading Jason Campbell and Albert Haynesworth when I heard the news that the Washington Redskins had signed nose tackle Anthony Bryant out ...