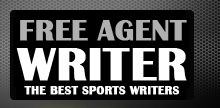 Yankee Addicts
Categories
Featured Sponsors
News published by
August 5, 2010
The fantasy football season is just around the corner, as we are now in August and drafts are well under way. Get ready for your draft(s) with our ...
July 27, 2010
Terrell Owens has finally signed with an NFL team: the Cincinnati Bengals. Earlier in the offseason, Chad Ochocinco came out publicly and lobbied for the Bengals to sign the aging ...
April 12, 2010
In shocking fashion, the Steelers parted ways with their star wide receiver Santonio Holmes for a fifth-round pick to the Jets . One can only guess this move was ...
April 6, 2010
View the 2010 NFL Team Strength of Schedule Rankings here.  Strength of schedule for NFL teams can be misleading because of various reasons. For one, teams with hard schedules on ...
April 3, 2010
It's that time of year again. Get ready to find out where the top rookies will go at the NFL draft. While it looks like the Rams are ready to ...
March 30, 2010
Immaturity seems to be the word that comes to mind with Buffalo Bills running back Marshawn Lynch . No one can deny Lynch had the talent coming out ...
March 14, 2010
No one can question the talent and ability former Oklahoma State star receiver Dez Bryant has. Just watch his old highlights from college, and it's easy to ...
January 6, 2010
For weeks now it has been rumored that the Washington Redskins were pursuing former Denver Broncos coach Mike Shanahan to be their new head coach. This only made sense as the ...