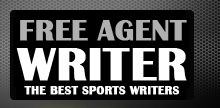 Yankee Addicts
Categories
Featured Sponsors
News published by
February 9, 2013
The New York Giants have a long and illustrious history. From their inception in the NFL in 1925, they have won eight NFL titles, including four Super Bowls. While the ...
July 30, 2011
The New York Giants have a leader. His name is Eli Manning.Whether he is shouting out signals behind center or yelling at players on the sideline, Manning is the heart ...
June 7, 2010
So far we have gone through 15 players. The list up to this point is below. There are a few recognizable names and a ...
June 3, 2010
So far we have gone two-thirds of the way through the list. Here's a recap of those you may have missed: No. 25 - Bart Oates (C) ...
May 25, 2010
After taking a look at the list of honorable mention players and reviewing the criteria for this list, let's begin the primary list of 25. Going backwards, we ...
May 22, 2010
The New York Giants have had a rich and glorious history in the National Football League. The Giants are one of the oldest teams in the league, and ...
May 13, 2010
This week, both New York football teams combined their efforts. In a rare show of unity, the Giants and the Jets brought players and owners to the new ...
May 8, 2010
This past week has been dominated primarily by one story and one man, the former NFL superstar Lawrence Taylor. Taylor has found himself in the midst of yet ...