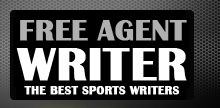 Yankee Addicts
Categories
Featured Sponsors
News published by
March 18, 2014
The NFL continues to wage war, attempting to save the game and the fans who adore it. No, it's not engaging a new fight against concussions or the ongoing issue ...
February 25, 2014
Jadeveon Clowney was arguably the biggest star of the show at the NFL combine, but it may be Puma that makes the biggest move of the week.  ESPN's Darren Rovell tweeted ...
February 18, 2014
Cam Newton and Colin Kaepernick are quarterbacks, a profession that does not mandate crooning, singing or carrying a tune, even for a little bit. This, my friends, is a very ...
January 29, 2014
It's been a wild and wonderful ride for Russell Wilson and his wife, Ashton Wilson, who now get to enjoy the unlikely and remarkable spectacle that is the NFL Super ...
January 29, 2014
Peyton Manning is on his way for a second Super Bowl title, a feat that is all the more stunning when you consider he might not even be here if ...
January 28, 2014
Hard work, pain and tremendous sacrifice will finally pay off for one lucky team that will take home all that comes with Super Bowl glory, including one piece of gorgeous ...
December 31, 2013
Alfred Morris is really interested in your Mike Shanahan questions, and he's going to let you finish, but Chik-fil-A is about to stop serving breakfast.  If Morris weren't already my favorite ...
December 11, 2013
You can go ahead and keep Andre Johnson's name well away from the naughty list.  Fox Sports' Andy Nesbitt reports the Houston Texans receiver, amid a trying season, is once again ...
December 3, 2013
The life of a Cleveland Browns quarterback is an arduous one. You get ribbed by fans, concussed by defensive giants and generally lampooned over a growing list of futility. But hey, ...
October 23, 2013
Rob Gronkowski will be hosting three hours of fun, frivolity and football lessons for women. If that didn't tempt you enough to plunk down $99, perhaps the promise of Gronk-tinis ...