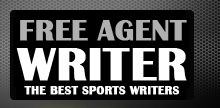 Yankee Addicts
Categories
Featured Sponsors
News published by
August 24, 2010
The Broncos start their season with a rocky preseason, but there are a lot of things to look at. Injuries are part of the game. That's why NFL teams have a ...
July 23, 2010
Denver has sealed the deal, Dumervil signed a $61.5 million six year deal. Elvis will be a Bronco for the long run. Doomsday just showed the right way to play ...
July 14, 2010
With all the moves that Denver has done since McD came in, this is where he will leave his stamp on the team: The O-line. Yes, the Broncos ...
April 14, 2010
Brandon Marshall is now a Miami dolphin and now Tony has signed his tender meaning he is most likely on his way out. He would probably be worth a 3rd ...
April 9, 2010
Draft boards are nearly set and all teams are making their final plans, and this is the question that always pops up. Do you draft a player of need to ...
March 30, 2010
Now that the 2010 NFL draft is near, the Broncos could land their last piece of the puzzle to once again have an "orange crush" type defense. Last year the ...