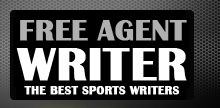 Yankee Addicts
Categories
Featured Sponsors
News published by
October 19, 2010
The days of Randall Cunningham and the 'Running Quarterback' have come and passed... But as a consolation, the NFL still has a mighty force of Mobile QB's. As College Football ...
October 4, 2010
Jay Cutler took a beating last night; there's no way around that, but was it all to blame on the part of his offensive line?I understand this may be ...
September 29, 2010
It's not hard to see, the San Francisco 49ers have been quite "interesting" this season, but for all the wrong reasons.The ground game has been ineffective, Alex Smith ...