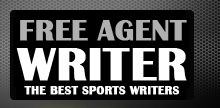 Yankee Addicts
Categories
Featured Sponsors
News published by
January 11, 2011
If the Patriots win the Super Bowl, Tom Brady will pass up Peyton Manning as the best quarterback of this generation.  This comparison does not include Dan Marino or Joe Montana ...
October 19, 2010
In this week's edition of star athletes behaving badly, former Charger great Junior Seau drove his car off of a one hundred foot cliff, following release from jail on spousal/cohabitant ...
October 15, 2010
Former folklore hero Brett Favre kicked America in the nuts again last night. Brett Favre was once regarded in the highest echelons of American Sports lore. He was ...