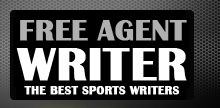 Yankee Addicts
Categories
Featured Sponsors
News published by
June 5, 2010
From the time that the team departed Dallas dazed from dual demolitions at the end of last season until now, the Philadelphia Eagles have engaged in a dramatic make-over. High ...
April 5, 2010
The winds of change continue to gust throughout Lincoln Financial Field. With the team now handing franchise quarterback Donovan McNabb to the Washington Redskins and the ongoing purge of accomplished ...
March 25, 2010
With Andy Reid's announcement this week that the Eagles are entertaining offers for all three of their quarterbacks, the Donovan McNabb trade rumors have returned to red-hot status. Despite adamant ...
March 25, 2010
Philadelphia Eagles fans have been frustrated with the team's lack of activity during the 2010 free agency period. With several obvious needs apparent to the fan base, the Eagles brass ...
March 6, 2010
The NFL free agent sweepstakes have gotten off to a flying start, with the Chicago Bears being the early aggressors. Well, at least as much as is possible considering the ...
March 1, 2010
As more information has emerged since Andy Reid announced the release of Brian Westbrook on Wednesday afternoon, it seems clear that once again the Philadelphia Eagles have exposed their one ...
February 24, 2010
So—the harsh realities of player career mortality and the NFL's business side have struck again. A couple of the most beloved players of two different franchises have been unceremoniously released ...
February 24, 2010
As NFL teams embark on the annual offseason process of evaluating their existing personnel and identifying team needs, the landscape will be different this year. With the absence of a ...
January 9, 2010
The Philadelphia Eagles arrived in Dallas yesterday for Saturday night's prime time rematch after being dominated by the Cowboys in a battle for the NFC Eastern Division crown.  Sunday night's ...