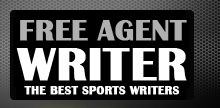 Yankee Addicts
Categories
Featured Sponsors
News published by
August 4, 2010
  Frank Omiyale is about the nicest guy in the Bears locker room, which may or may not be good for playing offensive tackle in the NFL. The Bears are trying to ...
July 31, 2010
BOURBONNAIS -- The common view from national media and fans in cities outside Chicago is quarterback Jay Cutler has no one at wide receiver for targets. A national lice infestation might ...
July 29, 2010
BOURBONNAIS - The stakes for this year's Bears season are not lost on the players, even if coach Lovie Smith prefers to change the subject. It's "Win One for Lovie (or ...
July 25, 2010
For a veteran coach facing a make-or-break season, the Chicago Bears' Lovie Smith could certainly have it worse. Ownership let Smith have his choice at offensive coordinator with his buddy Mike ...
May 24, 2010
It's often said very little can be observed about a football team by watching them run around in shorts at a minicamp. They certainly wore shorts and no pads at this ...
May 22, 2010
Friday, on the first day of minicamp, Chicago Bears quarterback Jay Cutler took a realistic approach toward how long it will take to get the new offense of coordinator ...
May 6, 2010
In a recent interview with the Associated Press, former Bears running back great Gale Sayers again showed that he should have remained the quiet, unassuming kid whom the late Brian ...
March 6, 2010
The Chicago Bears painted it as a red-letter day. There are two ways to look at it, of course. It was both a day to be positive about the future, and ...
March 5, 2010
Julius Peppers' first unrestricted free agency stop will be in Lake Forest on Friday to talk to the Bears. It's up to general manager Jerry Angelo and ownership to make it ...
February 27, 2010
The Bears have finally decided to get serious about replacing free safety Mike Brown. It took a year of watching Al Afalava and Kevin Payne being too slow to get to ...