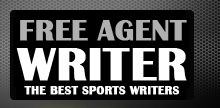 Yankee Addicts
Categories
Featured Sponsors
News published by
July 30, 2011
The first week of the new NFL season is almost in the books, and there have been two surprises thus far. The first is how stacked the Eagles defense has ...
April 2, 2011
The one glaring hole in the Carolina Panthers is the quarterback. This is obvious to anyone who has watched the game. Now, this is not a bash-on-Jimmy Clausen session. This ...
February 20, 2011
This offseason is arguably the biggest one in Panthers franchise history.Not only do they have the first overall pick, a huge amount of cap space and the owner leading the ...
January 21, 2011
The Carolina Panthers have the hardest decision any No.1 pick has had in the last few years. Usually, there is that franchise quarterback who the team could have started signing ...
January 11, 2011
Reports out of San Diego say that defensive coordinator Ron Rivera will be the next head coach of the Carolina Panthers. He's not John Gruden; he's not Bill Cowher; he's ...
January 9, 2011
WHO DAT, WHO DAT? WHO DAT SAY DEY GONNA BEAT DEM SAINTS? ANSWER: THE SEATTLE SEAHAWKS! In case you didn't know, the former Super Bowl champs just got owned by Seattle ...
January 5, 2011
Andrew Luck threw for 287 yards and 4 touchdowns in his 40-12 Orange Bowl victory over Virginia Tech. After the game, a guy comes up to Luck and asks, "What's ...
December 23, 2010
In the Carolina Panthers' only nationally televised game of the year, they are given the task of trying to beat an aggravated Pittsburgh Steelers team that fell short in ...
December 12, 2010
The Carolina Panthers host the NFL's best team in the Atlanta Falcons on Sunday. My suggestion is find something else to do. Go see a movie, play video games or ...
November 30, 2010
The Carolina Panthers and Cleveland Browns both showed why their records are the way they are on Sunday, but it was unfortunately the Panthers whose season showed most. The Panthers' ...