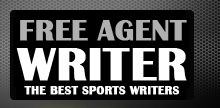 Yankee Addicts
Categories
Featured Sponsors
News published by
June 9, 2010
Before starting off, I want to make something clear; this isn't about defending or detracting from what incident(s) (alleged or otherwise) happened regarding Ben Roethlisberger. I just want to take ...
May 28, 2010
Sometimes when you're mixing a drink, you can get the ingredients all wrong. You might put in too much soda pop and it gets way too light. Other times, it's too ...
May 27, 2010
It seems like every family has one. The annoying child who won't be quiet. Whether eating at McDonald's, standing in the checkout line at Wal-Mart, buying shoes at Payless, or hanging around ...
May 25, 2010
I want to start this off by saying that I am not necessarily a Bruce Arians fan, nor am I a detractor, but I would just like to point ...
May 25, 2010
San Diego Charger fans have long suffered the fate of having quality passers who have not been able to win the "big one." Hall of Famer Dan Fouts played for ...