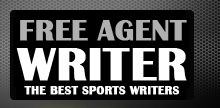 Yankee Addicts
Categories
Featured Sponsors
News published by
January 12, 2011
Normally, I don't advocate  a player returning for their senior year. The reason is that usually players don't improve much from their junior to their senior seasons. By the end ...
January 3, 2011
One thing that really irks me is how Jeff Fisher supporters (including his media organs Paul Kuharsky, Jim Wyatt, David Climer, David BoClair and Joe Biddle, plus a ...
July 1, 2010
Okay, so Kenny Britt showed up for the beginning of offseason workouts out of shape. So his attitude and concentration were not what they should have been. So his nickname ...
June 21, 2010
Call me crazy, but I say that if the Redskins do not make the playoffs in 2010, it has to be considered a disappointment. As a matter of fact, barring ...
May 26, 2010
The Titans need to trade Chris Johnson. Evidence is mounting that the guy is a knucklehead. Not a serious problem, like Terrell Owens, the late Chris Henry ...
April 30, 2010
One of the more disturbing things about our contemporary culture is the lengths that we will go to defend the indefensible. Jeff Ireland's question to Dez Bryant concerning his mother was ...
March 31, 2010
Of course, this article is based on the Titans' having viable and similar prospects at CB and DE available at No. 16. If Joe Haden's disappointing combine showing causes him ...
March 25, 2010
It looks like Andy Reid has lost his battle to keep Donovan McNabb in Philadelphia for 2010 and beyond. This is evident because Philadelphia has dropped their asking ...