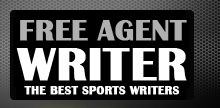 Yankee Addicts
Categories
Featured Sponsors
News published by
November 8, 2010
Green Bay Packers (current record: 6-3) Green Bay began the season as a trendy pick to represent the NFC in the Super Bowl. They haven't quite played like a Super Bowl ...
November 5, 2010
NFC West   Seattle Seahawks   The Seahawks made perhaps the biggest coaching change in the offseason, bringing Pete Carroll back into the NFL, an attempt to reinvigorate a team that had missed ...
November 5, 2010
Week 9 Division Rankings and Analysis Welcome to the Week 9 coverage and analysis of the NFL. So far in the season, we've seen a bunch of surprises and storylines for ...
February 22, 2010
Welcome to GNB Sports' NFL offseason guidelines. Today we are previewing the AFC East.   Buffalo Bills Positions of Strength: S, P (to be fair, he is very good) Positions of Weakness: QB, OL, ...
February 18, 2010
Welcome to GNB Sports' second edition of the NFL Offseason Guidelines, where we preview what we believe each NFL team should do in the offseason, division by division. Next stop: ...