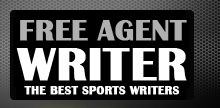 Yankee Addicts
Categories
Featured Sponsors
News published by
December 14, 2013
There's a patch of Lions fans that has been turned into a group of apologists. It's a beaten down cross-section of folks that has come to accept mediocrity as the ...
October 19, 2013
The video still exists, if you nose around You Tube long enough. The craggy old basketball announcer screams into his microphone, crying of the humanity of it all to his ...
September 21, 2013
History tells us that the Detroit Lions shouldn't even bother making the trip to Washington, D.C. this weekend. Save the airplane fuel. Don't bother packing the bags. Stay home this Sunday ...
September 7, 2013
The second-place baseball team opened a seven-game homestand in early August. The first four of those games would be against the first-place team—the team that was 3.5 games in front. ...
August 24, 2013
They called him Iron Mike. He played and coached football as if every Sunday was Iwo Jima and he was the first man in. There's great irony in the coaching career ...
June 29, 2013
He jogged toward us, his eyes piercing, his face ruddy from years of playing in the NFL. The physique was still in fine form, despite having been retired for a ...
May 18, 2013
Ten years ago last month, Charlie Rogers stood in front of the media wearing a Detroit Lions baseball cap and proudly holding his brand new Honolulu blue and silver jersey ...
November 10, 2012
The Detroit Lions scored four rushing touchdowns last Sunday in Jacksonville. They have 10 rushing TDs thus far, a pace that would give them 20 for the season, which would ...
July 28, 2012
They wore black, like all the bad guys in the Westerns. They had a player everyone called Big Ben who wore a handlebar mustache and who spoke with a voice ...
July 21, 2012
So it really took an MIT grad to come up with electric football? Not exactly. But it took an MIT grad to come up with electric horse racing and then ...