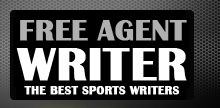 Yankee Addicts
Categories
Featured Sponsors
News published by
March 27, 2013
Syracuse's Marcus Sales is ready to voyage to the NFL and reward whichever team takes a leap of faith in him this April. After all, Sales has all the physical ...
March 23, 2013
The best kept secret in the 2013 NFL Draft doesn't own explosive combine results, doesn't possess enormous height and doesn't come out of a big-time football school. So while the draft "experts" ...
February 16, 2013
With free agency and the 2013 NFL Draft quickly approaching, every NFL team will do what it deems necessary to improve the state of its franchise. However, teams and players may ...
February 6, 2013
The Buffalo Bills are a few players away from evolving into an AFC threat next year, but dishing out large quantities of money won't guarantee a turnaround in 2013. This list looks ...
November 20, 2012
With fantasy leagues approaching the playoffs in the next few weeks, fantasy owners need to start adding depth to their squads. This list looks at low-stock players who will be ...
September 29, 2012
The Buffalo Bills brought Brad Smith to their team to make plays. But in reality, they are wasting Smith's talents and keeping him from being productive. The first step in ...
September 15, 2012
The NFL has plenty of high-profile players making huge bucks. But unfortunately, there is an abundance of mediocre players making the same money as the game's elite. This list takes ...
July 28, 2012
As the 2012 Buffalo Bills training camp is under way, there are plenty of new faces to get excited about. There is the proven Mario Williams, who is expected to ...
July 21, 2012
The 2011 NFL season forever revolutionized how the tight-end position can be played and utilized.It's not that the league hasn't seen great pass-catching tight ends—like Tony Gonzalez, Antonio Gates and ...
July 14, 2012
Based on regular season play, Peyton Manning is a Hall of Fame quarterback. Based on postseason play, Eli Manning is a Hall of Fame quarterback. For the brothers, it is ...