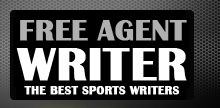 Yankee Addicts
Categories
Featured Sponsors
News published by
April 17, 2011
The NFL draft has seen its share of busts, flops, reaches, falls, twists and turns over the years, and the 2011 version promises to provide its share of just that.Some ...
January 17, 2011
Saturday night, Jan. 8, 2011.  The Indianapolis Colts and New York Jets are in a down-to-the-wire playoff game that saw not one, but two go-ahead field goals in the last ...
January 7, 2011
What was once a promising season for the Miami Dolphins quickly turned uglier and uglier with every Chad Henne turnover.  Henne threw 19 interceptions to only 15 touchdowns, was benched, never ...
November 27, 2010
Cleveland Browns rookie safety T.J. Ward has been a standout this season, racking up a team leading 80 tackles, while often punishing opponents with his crushing blows. What could ...
October 25, 2010
The Dolphins-Steelers game has been mirrored in controversy first with Ben Roethlisberger's fumble, then with the mass of ensuing bodies attempting to recover the lost ball.The referees decided to blindly ...
October 12, 2010
The plan coming into 2010 for the Cleveland Browns was simple: Let Jake Delhomme and Seneca Wallace handle the quarterbacking duties.  Keep rookie Colt McCoy safe on the sideline for ...
September 28, 2010
If you happened to catch the Jets-Dolphins game on Sunday night, a couple of things probably caught your eye. First it was the burn-your-retina orange alternate jersey's the Dolphins were donning, ...
September 5, 2010
With a lockout looming for the 2011 NFL season, many NFL players may be searching the want ads for new jobs during their extended time off.Brandon Marshall has already stated ...