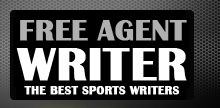 Yankee Addicts
Categories
Featured Sponsors
News published by
July 20, 2010
Every year I get into debates with countless fantasy football nerds like me about where the best place is to take a QB. Do I reach for a guy like Manning ...
April 8, 2010
Note: This article is being written with the idea that the first four picks will be Sam Bradford, Russell Okung, Ndamukong Suh, and Trent Williams, and there have been no trades ...
April 8, 2010
It's about time I did another mock draft. Now that most of the pre-draft stuff is finished, I have a chance to do one. This is my second to last ...