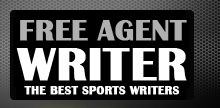 Yankee Addicts
Categories
Featured Sponsors
News published by
May 24, 2010
A funny thing has happened to me over the last seven seasons. While my absolute allegiance to the Raiders remains unshaken, these downturn years have caused the expansion of ...
May 6, 2010
After three years of repeated disappointments, JaMarcus Russell has been released from his contract with the Oakland Raiders. On paper, it was the obvious move. The Raiders save $6.45 million ...
May 1, 2010
A funny thing has happened over at the NFL online store. The number one selling jersey isn't future Hall of Famer QB Brett Favre , or Super Bowl MVP ...
April 26, 2010
Maybe this was her way of pitching a reality series called NFL Wives. On Saturday, the final day of the draft, the New York Jets traded Leon Washington and ...
April 26, 2010
The Pittsburgh Tribune-Review has brought concussion history into question in regards to Roethlisberger's upcoming behavioral evaluation. To date, Ben Roethlisberger has suffered three on field concussions and 242 sacks. He ...
April 16, 2010
It's been a Big Ben kind of day. Lots of opinions floating out there about what kind of suspension is going to fall, and why. The biggest buzz came not ...