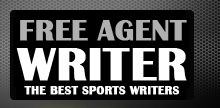 Yankee Addicts
Categories
Featured Sponsors
News published by
January 7, 2011
As breaking news was heard across the nation, stating that Redshirt, Sophomore Quarterback Andrew Luck will stay in school to "complete his degree," many fans were shocked by his decision. Luck ...
November 20, 2010
With 10 weeks of the NFL season complete, we could tell that this season has been one of the most unpredictable in a long time. When you have as many ...
August 5, 2010
The Brett Favre era is finally over folks, or is it? Well, with all the back and forth rumors of Favre either staying or leaving it's hard to know ...
April 28, 2010
Every year, there is a group of players who do not get drafted and have the skills and potential to be good players in the NFL. Some of these players, ...
April 23, 2010
Looking back at the crazy and unpredictable first round of the 2010 NFL draft, there were a lot of very surprising trades and picks that many teams had. This was ...
April 3, 2010
With the NFL draft coming up this month, it seems as if The Sports Dish doesn't have a mock draft yet. So for the first time in The Sport Dish's ...