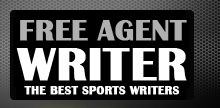 Yankee Addicts
Categories
Featured Sponsors
News published by
June 24, 2010
One month left until the caravan heads to Lehigh University. Soon we'll find out what potential this "new" Philadelphia Eagles team truly possesses.  It's excellent to hear that the Eagles are ...
May 3, 2010
There's been a lot of talk regarding the changes that have taken place on the Philadelphia Eagles offense.  When you change players, particularly at quarterback, you have to make a ...
April 26, 2010
  The 75th Annual NFL Draft has come and gone.  When I look at how the Philadelphia Eagles approached, I keep repeating the number thirteen.  If one third of the their ...
April 22, 2010
  Here we are.  The most anticipated time of the NFL offseason. While every team's front office is finalizing their game plan, every "expert" is going over their mock draft so ...
April 12, 2010
The Eagles could be very competitive in 2010.  They could very well make a deep playoff run.  But, from most fans perspectives the Super Bowl aspirations have been put on hold.  Although he ...
April 11, 2010
A week has gone by since the Philadelphia Eagles officially announced there would be a new starting quarterback in 2010. Some fans were elated, and some were disgusted.  While I enjoyed ...
April 5, 2010
The suspense is over.  Donovan McNabb is no longer a member of the Philadelphia Eagles.  The initial reaction along I-95 from the Broad St. exit to the Landover, ...
April 4, 2010
When trying to analyze the Philadelphia Eagles trade with the Cleveland Browns yesterday, a lot of memories came to mind on cornerback Sheldon Brown. No, not the hit on Reggie Bush ...
March 28, 2010
  Ever since Andy Reid admitted that the Philadelphia Eagles have listened to offers regarding all three of their quarterbacks, there have been many rumors regarding Donovan McNabb and his alleged ...
March 25, 2010
Welcome to Philadelphia, Mr. Mike Bell.  Do you know who will hand the ball off to you?  Neither do we.  The rumor mill is getting ready to accelerate to full throttle.  ...