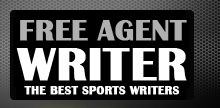 Yankee Addicts
Categories
Featured Sponsors
News published by
November 6, 2010
It turns out @MatthewBerryTMR can't take the heat. The self-described Talented Mr. Roto has decided to block us on Twitter after we called him out last week for calling Dallas ...
September 24, 2010
According to "JetsFan69" on twitter, who retweeted "MP3210" the New York Jets are set to release wide receiver Braylon Edwards. "MP3210" claims to have a friend who has a brother ...
May 9, 2010
Dear DeSean Jackson , I like you; I really do. I like you, and I am NOT even a Philadelphia Fanatic. I like you, and I am NOT even a California Golden ...
April 23, 2010
For better or worse, Tim Tebow is going to be the most talked about white Bronco since OJ Simpson and Al Cowlings went on their joyride. When the Denver Broncos ...