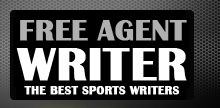 Yankee Addicts
Categories
Featured Sponsors
News published by
December 5, 2012
The 2013 NFL draft isn't loaded with elite offensive players, but there are still a few to focus on as April approaches.This year's draft is going to be weird. Without ...
November 28, 2012
Injuries can make or break any NFL team this time of year. It's the stretch run of the season, and every game is absolutely important.The NFL is a brutal league. ...
November 21, 2012
Alshon Jeffery has only participated in six games as a rookie this season, and it appears that his year could end there.According to Chicago Tribune reporter Brad Biggs, Jeffery will ...
November 17, 2012
Words like "questionable" and phrases like "game-time decision" are frightening for NFL teams and fantasy football owners alike.Mystery surrounding any player's status with Sunday right around the corner is nerve-wracking, ...
October 31, 2012
By now, fantasy football owners know who is going to produce for their squads. Players have established themselves as studs or duds eight weeks into the NFL season, and Week ...
October 24, 2012
Mario Williams has been a gigantic disappointment in his first season with the Buffalo Bills, hardly playing up to the six-year, $100 million contract he was given in the offseason.According ...
October 24, 2012
Sean Lee is Dallas' leading tackler by a large margin, but the Cowboys may not have their steady middle linebacker for awhile following an injury in the third quarter on ...
October 21, 2012
The New Orleans Saints have been without their defensive leader this season, but Jonathan Vilma will play in Week 7.Here's what ESPN's report had to say regarding Vilma's status:Vilma is ...
October 20, 2012
The Monday Night Football matchup between the Chicago Bears and Detroit Lions comes down to one thing—turnovers.Whether it's taking the ball away or giving it away, Monday night's game features ...
October 10, 2012
Things couldn't get much worse for the New York Jets' offense, even if Tim Tebow were to replace Mark Sanchez and play horribly.Sanchez's current passer rating is 66.6. He's completed ...