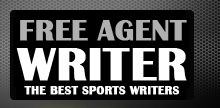 Yankee Addicts
Categories
Featured Sponsors
News published by
December 11, 2010
1. Carolina Panthers- Andrew Luck, QB, Stanford The Panthers drafted two QBs last draft, but Jimmy Clausen hasn't played like a starter and Tony Pike couldn't beat Brian St. Pierre ...
November 24, 2010
It's been 11 weeks into the NFL season, and now football fans and analysts are beginning to predict who will win each division and make the playoffs, who's a contender ...
September 3, 2010
The Packers just finished their final preseason game against the Chiefs, and now it's time for Ted Thompson to finalize the Packers' roster by cutting it down to 53, which ...
August 30, 2010
The Saints are coming off 2009 as the defending Super Bowl champions, and Drew Brees has placed himself in the discussion of who's the best QB in the NFL along ...
August 28, 2010
The New Orleans Saints head into the 2010 season as the defending Super Bowl champions, and football fans across America are anticipating their teams taking home the Lombardi Trophy this ...
May 1, 2010
Now that the draft is over, it's not too early to make predictions for the upcoming NFL season. This slideshow will include my preseason power rankings of all 32 ...
April 24, 2010
33. St. Louis Rams- Rodger Saffold, T, Indiana This was a bit of a surprise pick, but it was a great choice. Saffold has great potential to be a franchise left ...
April 23, 2010
The 2010 NFL Draft was filled with surprising picks, and first-round prospects like Jimmy Clausen, Taylor Mays, and Golden Tate weren't selected in the first round.   1. St. Louis Rams- Sam ...
April 21, 2010
The 2010 NFL Draft is just a day away, and this year boasts one of the most talented draft classes in a long time: It figures to have starting rookies ...
April 17, 2010
First Round (Pick 23) - Kyle Wilson, CB, Boise State I think the Packers should take Charles Brown, but Ted Thompson's draft record suggests that he won't draft a tackle in ...