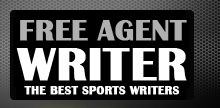 Yankee Addicts
Categories
Featured Sponsors
News published by
September 22, 2012
I consider Atlanta Falcons quarterback Matt Ryan to be one of the top quarterbacks in the NFL. I saw his first, perfect touchdown pass, so I know he's good. However, ...
September 19, 2012
The words 'small' and 'quick' came to mind as I watched the Atlanta Falcons defense walk around and confuse the Denver Broncos and Peyton Manning as if Eric Weddle was ...
August 22, 2012
Ryan Mathews rolled to a Pro Bowl appearance and nearly five yards per carry last season for the San Diego Chargers, but there are some fans who feel that he ...
April 22, 2011
Lack of direction from the front office of the San Francisco 49ers has led to the 2011 draft being a critical one, specifically at the quarterback position, where former number ...
December 27, 2010
Finally. The Chargers couldn't overcome the piss-poor "coaching" job performed by Norv Turner. I use the word coaching lightly, because the Chargers don't have a head coach.  With the season on ...
November 28, 2010
This Sunday night the San Diego Chargers will attempt to continue their mastery of the AFC South. Understandably the Indianapolis Colts have been under the most scrutiny for their repeated ...
November 1, 2010
Let's face it, the San Diego Chargers are so talented that it's going to take a near preposterous amount of bungling for them to lose a game. This week they were only ...
October 24, 2010
I recently wrote an article about the lack of focus on the Chargers, due to the lacking leadership of Norv Turner, which was yet another about face on my part ...
October 23, 2010
There once was a deputy called Fife,Who carried a gun and a knife.The gun was all dusty,And his knife was all rusty,'Cause he never caught a crook in his life.-Poem ...
October 12, 2010
I had a hearty laugh or thirty with (at) my beloved Raider fans over the "Shawne Merriman-Broom-Over-Raiders Logo" avatar I've had up on my profile for years. I promised Barnavicious ...