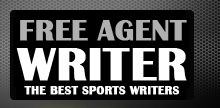 Yankee Addicts
Categories
Featured Sponsors
News published by
June 6, 2016
The NFL Pro Bowl is one of the biggest events of the year as the finest and most accomplished athletes in the world are celebrated. While the game itself is ...
June 5, 2016
Talent drives the NFL, but raw natural abilities alone aren't enough to reach the pinnacle of the sport. Super Bowls are decided by a mixture of skill, coaching acumen and a ...
June 3, 2016
One reason the NFL is the most popular American sport is its unrivaled parity. Every season welcomes an unfamiliar face to the playoff gauntlet. Even with a system in place ...
June 1, 2016
Experts say it's not fair to evaluate a draft class for three years, as situations can dictate individual success. Whether due to injuries, poor performance or off-field issues, recent draft ...
May 28, 2016
The NFL is an ever-changing entity comprised of intelligent people who have dedicated their lives to discovering the slightest tactical advantage. Games are often decided on a small handful of ...
May 26, 2016
The 2017 NFL draft is still a long way from commencing, but evaluators and fans don't need all that time to recognize how unique and special the talent could be. ...
May 24, 2016
Rosters are all but set for most of the 32 NFL franchises as the major waves of free agency and the 2016 NFL draft have wrapped up. Barring any late ...
May 21, 2016
With the 2016 NFL offseason entering the dead period before offseason workouts and training camp, franchises have one last chance to upgrade their rosters. There are quality veteran free-agent options ...
May 20, 2016
The 2016 NFL draft class is the new and popular thing to talk about right now, but forgetting about the 2015 crop would be unwise. Second-year players who have been able ...
May 17, 2016
The 2016 NFL offseason has now reached a brief calm point as free agency and the draft have come and gone. There are still some veteran free agents who may find ...