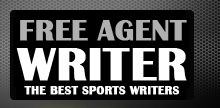 Yankee Addicts
Categories
Featured Sponsors
News published by
August 5, 2010
We all know the story by now: Darrelle Revis is holding out from Jets training camp for more money. He was actually offered $100 million, which he turned down! Boy, I ...
July 29, 2010
The No. 1 overall pick in this year's NFL entry draft (along with a lot of other first-round picks) has not been signed, yet. Nobody knows why. After all most ...
July 15, 2010
The Canadian Football League is going to take out the NFL option window in 2012. The NFL option window is currently between January 1 and February 16 of the option year ...
July 14, 2010
With the entire NFL all riled up about the Ben Roethlisberger suspension, saying that it will stop the Steelers from making the playoffs and end their dynasty once and for ...
July 13, 2010
Pittsburgh Steelers fans have have faced several burning questions over the last few months. When is Roethlisberger coming back? How do we replace Santonio Holmes? How do we fix the offensive ...