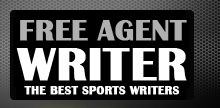 Yankee Addicts
Categories
Featured Sponsors
News published by
July 8, 2010
When asked how many games the Lions will win in 2010, the highest most fans will go is around 7.  Now I have my doubts about them reaching anywhere ...
April 6, 2010
During Matt Millen's eight-year-long tenure, the Detroit Lions went one place.  South. From a 9-7 team that just missed the playoffs in 2000, the Lions managed fall so hard that they lost ...
April 3, 2010
With the NFL Draft less than three weeks away, Detroit has been involved in a lot of talk about trades and free agent acquisitions. Whether it be trading various draft picks ...
March 20, 2010
With the second pick in the 2010 NFL Draft, the Lions have a big problem. They have too many options. They can go with one of the top defensive linemen, and turn ...
March 7, 2010
Over the last two or three days, the Detroit Lions have added several starters. They have also lost their top three cornerbacks. Philip Buchanon, Anthony Henry, and Will James. With a ...
February 27, 2010
In 2009, the Detroit Lions' defensive line had about 14 sacks. Compare that to Denver's Elvis Dumervil, who alone had 17 sacks. Or Minnesota's Jared Allen, who accounted for 14.5 ...
February 21, 2010
Over the last year, Detroit Lions fans have experienced a lot. We panicked when Detroit drafted Stafford over Curry. We celebrated when Detroit beat the Redskins and the Browns. We ...